2023 Milestones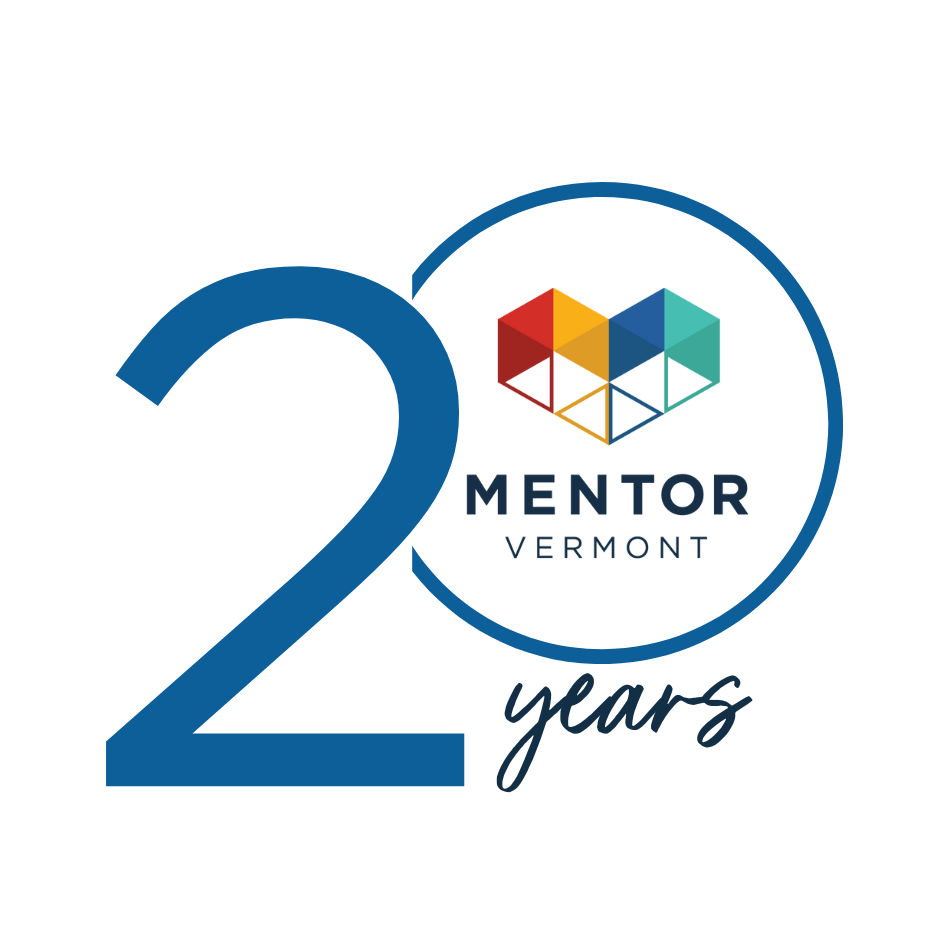 We're excited to announce three major milestones at MENTOR Vermont:
10 years of our Executive Director's leadership

10 years since MENTOR Vermont expanded to become statewide

20 years since the organization was founded in 2003
We started as a small organization with big dreams, then known as Mobius. Over the past two decades, we've grown to become Vermont's leading voice for youth mentoring. As we reflect on a decade of Chad Butt's visionary leadership and two decades of dedicated service to the Vermont youth mentoring field, we're reminded of the incredible impact that can be made with hard work, passion, and collaboration.
With each passing year, we've seen our collective impact grow – thanks in no small part to the dedication and vision of our Executive Director, Chad Butt. As we celebrate his 10 years at the helm, we're reminded of the incredible progress we've made and the challenges we've overcome. We are equally grateful for the dedication and service of Benji Thurber, who was instrumental in the expansion of MENTOR Vermont's work over the last decade.
But we also know that our work is far from done. That's why we're asking for your support as we look to the future. By making a donation in honor of Chad Butt's inspiring leadership, you'll be recognizing the achievements of youth mentoring statewide, and helping to ensure that our programs and initiatives can continue to grow and thrive. With your help, we can make an even greater impact in the years to come, providing more young people with the support, guidance, and opportunities they need to reach their full potential.
So please, join us in celebrating this momentous occasion by making a donation today. Your generosity will help us build a brighter, more equitable future for all young Vermonters, and ensure that MENTOR Vermont can continue to make a difference for years to come.
Monthly Milestones
Become a monthly donor with a gift of $10, $20, or $40 in honor of our MENTOR Milestones
10 for 10
Make a gift of $10, $100, $1,000, or $10,000 in honor of Chad Butt's inspiring dedication and leadership
Share Your Story
We want to honor the organization's history and our supporters over the years as we mark these milestones. Celebrating each one gives us the opportunity to reflect and connect on MENTOR Vermont's journey. To do so, we are gathering stories and insights from the folks who have engaged in youth mentoring throughout our organization's history. Folks like you!
We hope you'll take a few minutes to respond to the questions below. The Vermont mentoring network is made up of a diverse fabric of people, and we know not each of these questions will apply to you.
If you'd prefer to connect via phone, Zoom, or in-person to discuss these questions, please click here to select a date and time that work well with your schedule.
Questions? Contact Emily Listowich at [email protected] or 802-277-2417